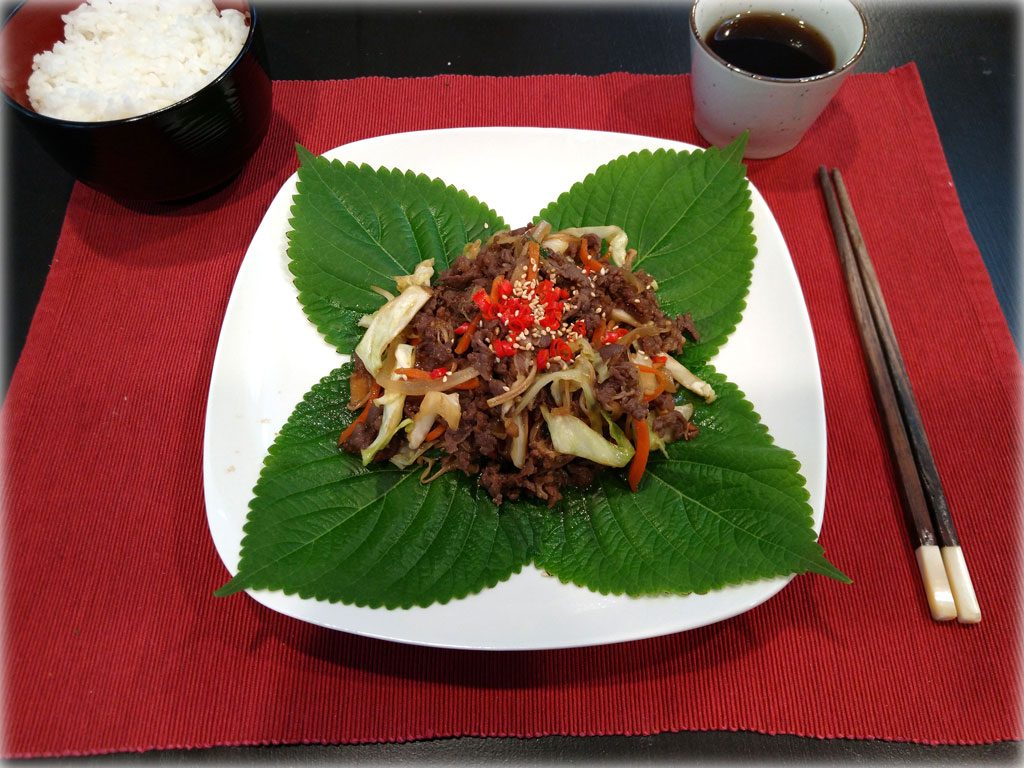 Bulgogi (불고기) is made using thinly sliced ribeye beef. It is marinated using mainly soy sauce and sugar, combined with cabbage, carrots and onions, and cooked over a hot pan.
It's a great meal with sweet and tender beef that everyone is sure to love. You can marinate the beef, add the vegetables and cook on a portable stove right on the table, Korean restaurant style.
For detailed recipe directions, view our video here: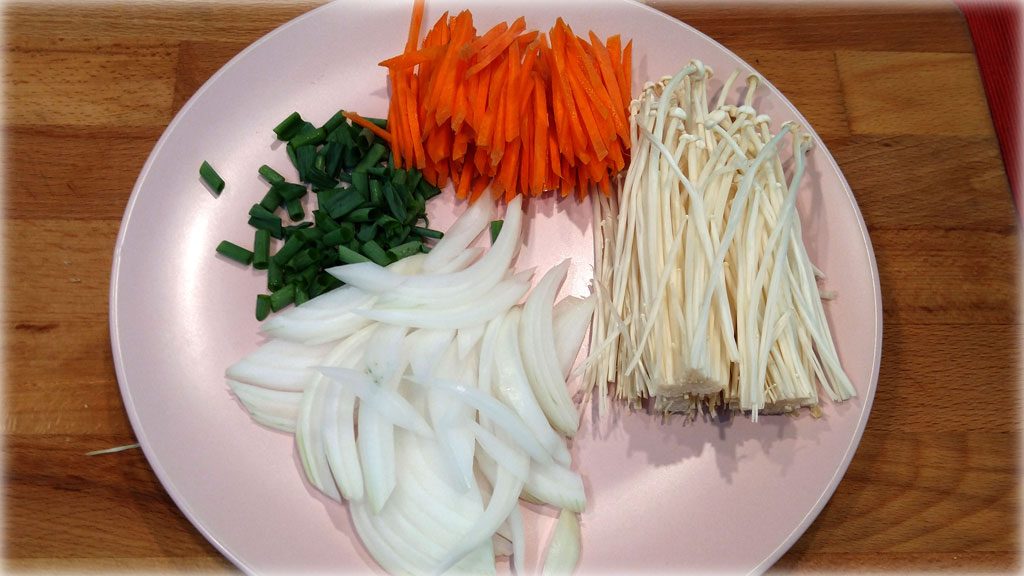 Ingredients
1~2 lbs (1 kg) Bulgogi Meat – Sliced Ribeye Beef
1 Whole Onion – sliced
1~2 Cups Cabbage – thinly sliced
1 Large Carrot – Diagonally cut and sliced into thin strips
Green Onion – Thinly chopped
1 bunch of mushrooms – Enoki or other thinly sliced mushrooms

Cooking Oil
Sesame seeds for garnish
(Optional) – Fresh hot pepper – finely chopped for garnish
Sauce
6 Tablespoons Sugar
6 Tablespoons Soy Sauce
1 Tablespoon Fish Sauce
1 Tablespoon Minced Garlic
1 Teaspoon Sesame Oil
(Optional) 1 Asian or Sweet Pear – Core and Blended – Can also use kiwi or pineapple. This helps tenderize the meat.
Help support us. Scroll down for more content.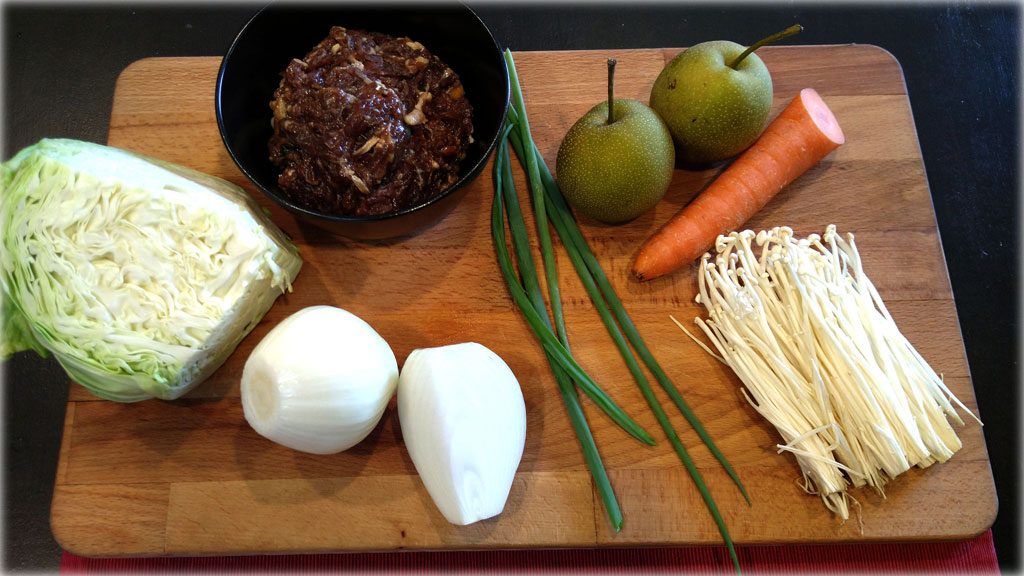 Directions
Preparation – Marinating the Beef
If you bought ready-to-cook bulgogi meat, it should already be thinly sliced. If not, cut your steaks into very thin slices, about 1 millimeter or 1/8-inch thick. You can also buy Bulgogi that is already marinated. In that case, skip to the next section.
Combine the sugar, soy sauce, garlic and fish sauce into a bowl and stir. To dissolve the sugar better, place in the microwave and cook for about 20~30 seconds, then stir.
(Optional) Core and blend a pear (or kiwi, pineapple). Add to the marinade sauce.
Add the marinade sauce to the bulgogi meat. Place in the refrigerator and allow it to marinate for at least an hour.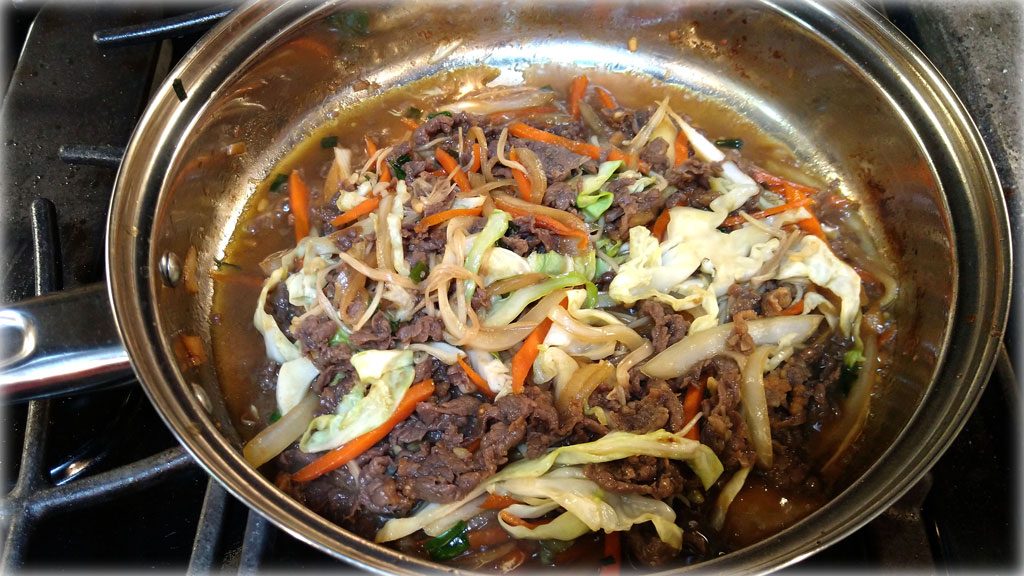 Cooking
Add the onions, carrots and green onions to the marinated bulgogi meat. Mix thoroughly. Set aside the mushrooms and cabbage.
Heat a large wok or skillet to medium heat. Add some cooking oil.
Add the bulgogi meat mix and stir-fry. Cook for about 1~2 minutes until the meat color becomes lighter.
Add the cabbage and mushrooms and continue to stir-fry.
Keep cooking and stirring until the cabbage is cooked. Liquid will form from the beef. Don't try to reduce it as this will result in overcooking.
Once cooked, transfer to a serving dish.
Add sesame seeds and chopped hot pepper for garnish, if desired.
If you want to learn how to make other Korean dishes visit our main page at Yorihey.com.