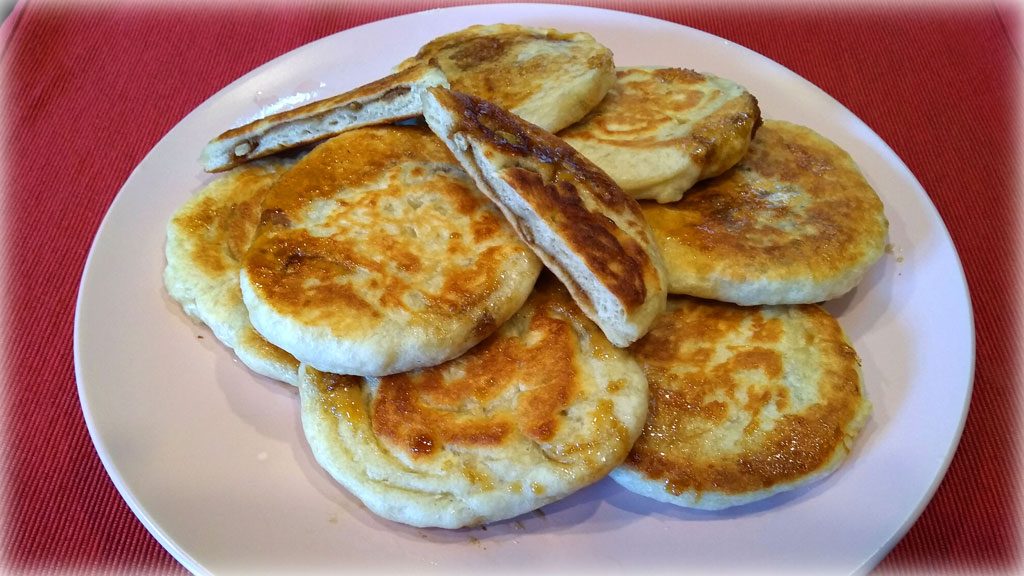 HoTteok (꿀호떡) is a popular street food in Korea that's cheap and tasty. It's filled with nuts, brown sugar and cinnamon, wrapped in a dough ball and flattened on the pan.
Ingredients
Dough
Warm water (heat to 40~44ºC / 105~110ºF)
2 teaspoons – Yeast
2 cups – Flour
2 Tablespoons – Sugar
½ teaspoon – Salt
1 Tablespoons – Oil
Filling
Brown sugar
Cinnamon
Nuts (can be peanuts, walnuts, sunflower seeds…)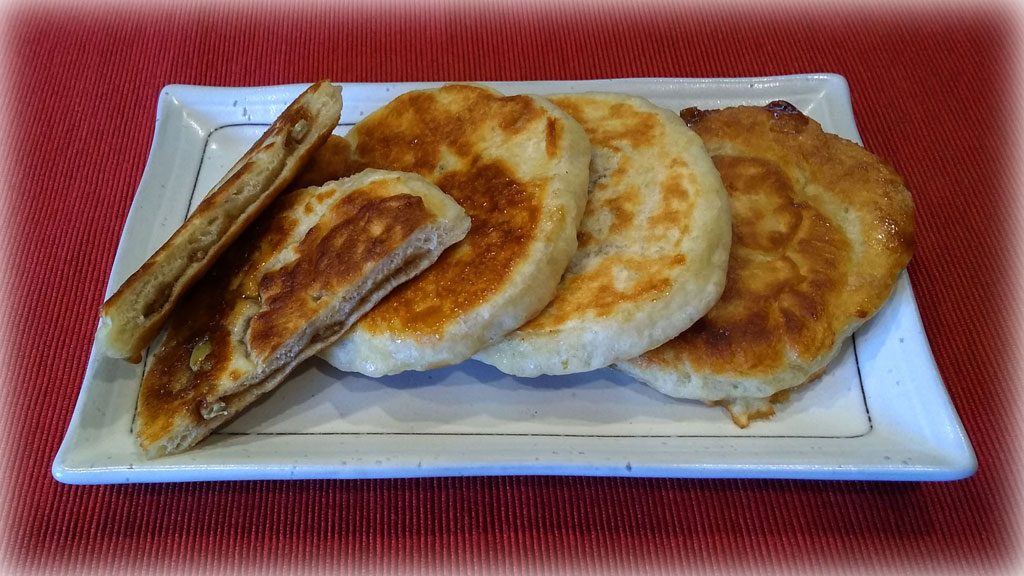 Help support us. Scroll down for more content.
Directions
HoTteok Dough
In a cup, combine warm water and yeast. Stir lightly and set aside to proof for 10 to 15 minutes.
While the yeast proofs, in a large bowl, combine flour, salt and sugar then mix.
Once the yeast is ready, add it to the dry ingredients in the bowl and mix.
Knead the dough, adding the oil as you knead. Add extra flour if the dough is too sticky.
Once dough is thoroughly kneaded, press down into bowl, cover the bowl and set aside. Let the dough rise to about twice its original size. Depending on the temperature, this should be about half an hour to one hour.
HoTteok Frying
Heat a large pan to medium heat and add a liberal amount of cooking oil.
Oil your hands lightly, or dip in water, to prevent the dough from sticking to them.
Take a pinch of dough and form it in your hands. Make a ball and stretch, flatten into a disc shape.
Take the filling and add a spoonful to the center of the dough disc.
Press the spoon into the filling while cupping your hand. Add another spoonful and press again. Repeat 3~4 times while you can still close the dough.
Grab the sides of the dough and close it into a ball, keeping the filling inside the dough.
Set the ball onto the frying pan and let it fry for about a minute. You can form more balls while these cook.
With a spatula and/or press, flip each ball over and press them into a flat pancake. Continue to cook another minute.
Flip again and press until both sides are golden-brown.
Move to a serving dish and allow them to cool at least a couple minutes.
The pancakes are ready to serve, but take caution as they will be quite hot straight from the pan and can cause burns. Let them cool down before taking a bite.
If you like, you can serve with more filling on top.
For a quicker method that doesn't use dough, but sliced bread, try our HoDdeok (5분 꿀호떡) – Quick and Easy 'Cheat' Method.
If you want to learn how to make other Korean desserts, try our ganjeong – puffed rice snack or visit our main page at Yorihey.com.