If you're in the Dallas, Texas area, or visiting soon, come visit us for a cooking class! We offer Korean cooking classes and Sushi Roll classes throughout the week and during the weekend. Check the schedule below for open classes or request a time and we can open a class for you.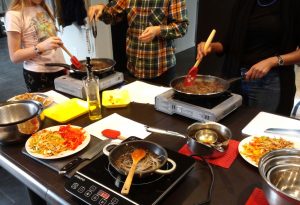 Korean Cooking
Our Korean cooking classes run about 2 hours and we make two or three traditional dishes. Some of our most popular dishes:
Bibimbap: Rice with mixed veggies and meat served with hot sauce and fried egg. We make all the ingredients and show you how to present and serve the dish. Easily modified for a vegetarian diet.
Japchae: This Korean cooking staple is made from sweet potato noodles and served with mixed veggies and meats. Our students love this one as it introduces a healthy, gluten-free noodle.
PaJeon: The Korean pancake made with green onions and seafood. Always a favorite on rainy days.
HoDdeok: This sweet Korean pancake dessert made with a flour dough and filled with a sweet filling is fun to make and everyone's favorite.
Sushi Roll
In this cooking class, we teach you how to roll sushi rice with seaweed wrappers. This class typically lasts 1.5 hours. In this popular cooking class, we cover the basics of rice preparation, ingredients, rolling and decoration.
California Roll: The basic Japanese sushi roll made with rice on the outside. This roll is filled with crab meat and avocado.
Tempura Roll: This roll is like the basic roll, but we use two tempura-fried shrimp, avocado and cucumber to fill.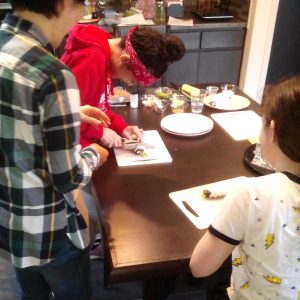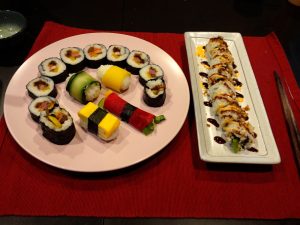 Please email us for availability. We currently offer two cooking classes, one for Korean dishes and one for making sushi rolls. You can also book through AirBnB Experiences through these links:
Pricing
Our current pricing for cooking classes is as follows:
Korean Cooking Class: $68
Japanese Sushi Class: $52
Schedule
We have a standard schedule below for cooking classes. If you can't make a regularly scheduled class, let us know so we can open a class for you.
Korean Cooking Class
Classes are currently by request. Send us an email to request a spot.
Japanese Sushi Class
Regular schedule is Saturday at 1 PM at our cafe in Dallas, Three Egg Muffins.

Contact us if you'd like to schedule another time or for our Plano or Frisco locations.
Come join us! Email us for more info!