This is a variation of the popular Korean/Japanese fried pork cutlet dish that uses chicken instead. The chicken is marinated in a soy/ginger/garlic sauce to give it deep flavor before breading and frying for a crispy finish.
The ingredients below are for 1-2 sevings and are approximate depending on the size of you chicken pieces.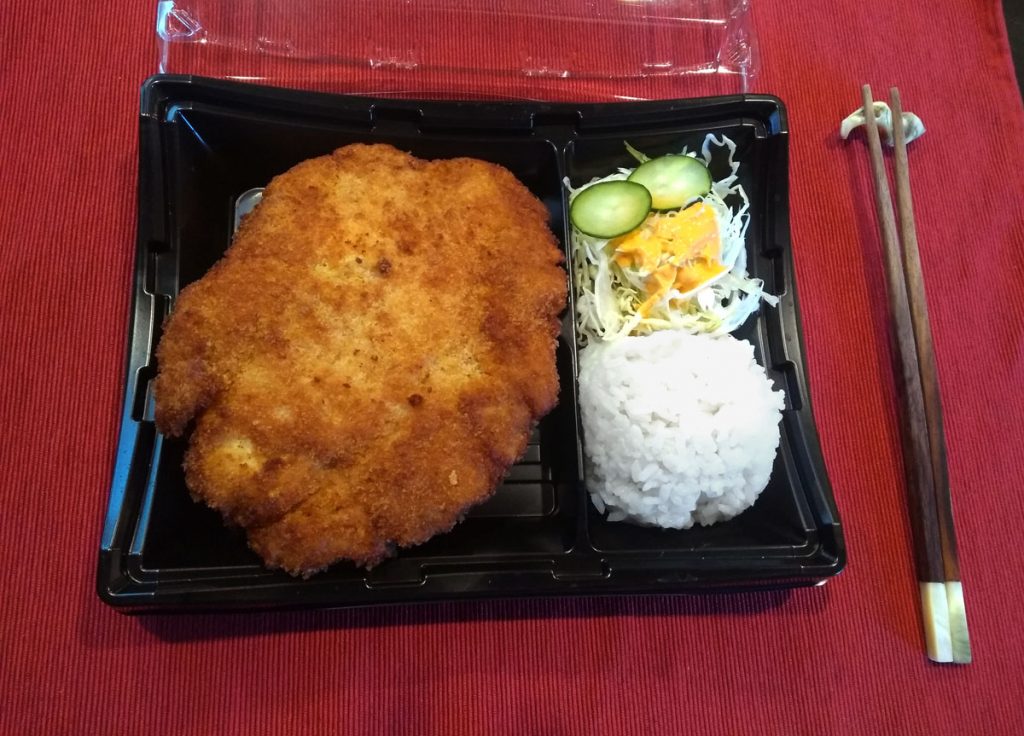 Ingredients
1-2 Chicken breast, butterflied and thinly sliced
1 c flour or tempura flour
1 c bread crumbs
2 eggs
1 pinch of salt (optional)
Cooking or Frying oil (enough to fill a pot if deep frying)
Marinade Sauce
½ c soy sauce
½ c sugar
½ c water
1 T minced garlic
½ T minced ginger
Katsu Sauce
¼ c ketchup
¼ c Worcestershire sauce
2 t soy sauce
1 t sugar
Help support us. Scroll down for more content.
Directions
Take a chicken breast and butterfly it, then slice it into pieces ¼-inch to ½-inch pieces.
In a bowl or container, mix the marinade ingredients (soy sauce, sugar, water, garlic and ginger) and add the chicken pieces. Make sure the chicken is covered with the marinade. Cover and let marinate at least one hour, preferably overnight in the refrigerator.
On two separate plates, or in plastic bags, add the flour in one and bread crumbs to another. In a bowl, beat the eggs.
Take a piece of marinated chicken and place it on the flour. Mix it thoroughly, making sure it is covered all around with flour.
Move the flour-covered chicken piece to the egg dish and coat the piece with the egg mix.
Now move the chicken piece to the bread crumbs and thoroughly cover with bread crumbs. Move covered piece to a plate and repeat for the remaining chicken.
In a pot, add frying oil until it is about 1-to 2-inches deep. Turn on heat and allow the temperature to rise. Flick a bread crumb into the oil to test the temperature. It should sizzle moderately. If it doesn't sizzle, turn the heat up. If it pops and reacts, lower the heat.

If you are pan-frying, heat the pan first, then add some cooking oil.
Take a breaded piece of chicken and carefully add it to the hot oil. (CAUTION: Be careful not to drop water into the pot as this will cause boiling oil to splatter everywhere and risk injury).
Turn the chicken piece over periodically, noting the color and firmness of the piece. It should be a golden-brown color when done.
Drain and remove the cooked piece and place it on a paper-towel to rest. Repeat for the remaining pieces.
Katsu Sauce
In a small bowl, mix the Katsu sauce ingredients together (ketchup, Worcestershire sauce, soy sauce, sugar).
Drizzle over the finished chicken katsu pieces, or serve in a small dipping dish on the side.
For a finishing touch, you can cut the chicken katsu pieces into thin strips and serve on a plate. Add some salad or cabbage salad with dressing on the side.
Help support us. Scroll down for more content.