This dish uses noodles made from sweet potato starch. It is usually served as a main dish with rice. Vegetables and meat or fish cake are usually mixed in, so you can easily modify by omitting meat to create a vegan-friendly dish.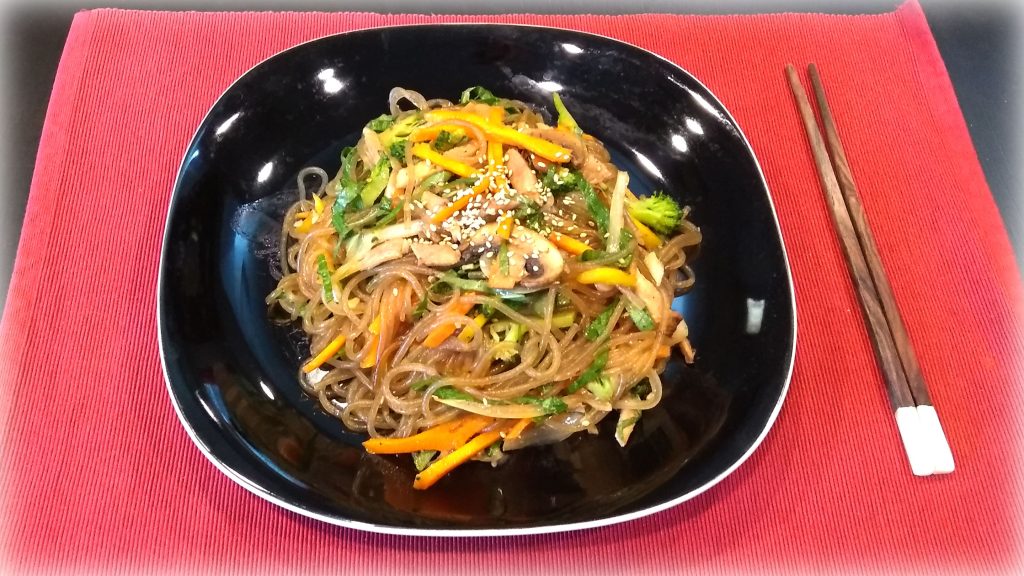 Since the noodles themselves are made from sweet potato starch, they're naturally gluten-free and have a lower glycemic index as opposed to wheat or rice noodles.
The only caveat is that they need to be soaked and pre-boiled for about ten minutes. They won't break apart like other noodles. On the plus side, though, they won't stick to your pot when boiling, so once you have them in the pot, just boil and rinse when done. You do not need to be stirring a boiling pot of water.
Help support us. Scroll down for more content.
Video Recipe
Click on the video below to follow along or scroll past to view the ingredient list and directions.
Ingredients
5-6 oz. – Sweet potato noodles
1-1/2 – Bell Pepper
1 – Whole Onion
1 – Medium carrot – sliced
4-5 sheets – Fish Cake -or- Chopped Pork
Black pepper
Sesame oil
Sesame seeds
Optional
Sauce
7 T – Soy sauce
4 T – Sugar
1 T – Minced garlic
Sesame oil
Sesame seeds
Help support our site.
Directions
In a large bowl, add noodles and cold water. Boil for 10 minutes. Rinse noodles. Cut to shorter lengths with scissors.
Prepare and stir-fry other ingredients – Slice the carrot, meat, onion into thin slices. Stir-fry ingredients and set aside.
Heat a wok or frying pan add sauce and bring to simmer. Add noodles to coat and absorb (don't over cook).
In a bowl, add noodles, stir-fried ingredients, sesame oil and sesame seeds