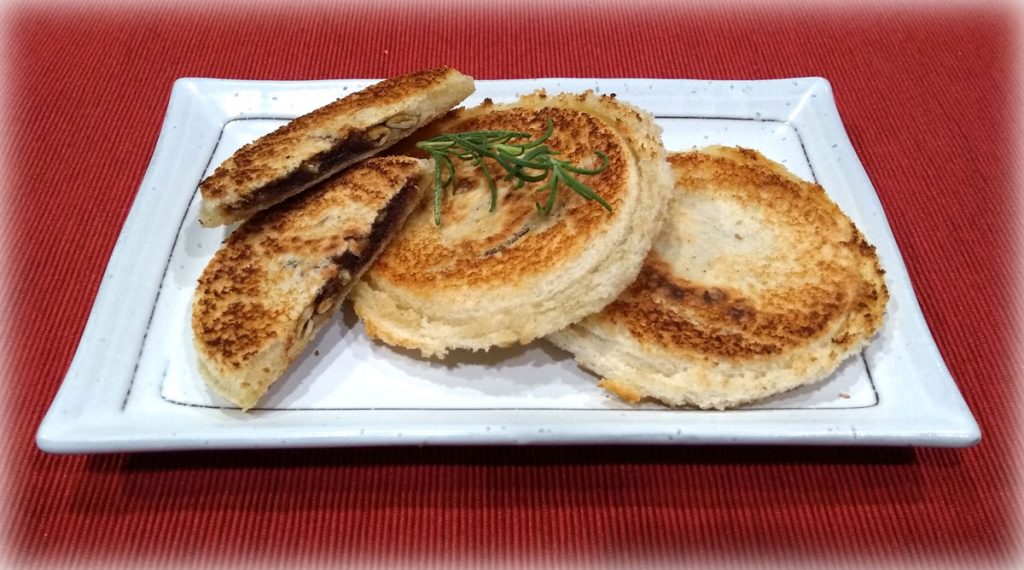 HoDdeok (꿀호떡) is a popular street food in Korea that's cheap and tasty. It's filled with nuts, brown sugar and cinnamon, wrapped in a dough ball and flattened on the pan.
Traditional HoDdeok can be messy and time consuming to make, so we made a quick and easy hoddeok recipe using sliced bread that you can make in five minutes.
Ingredients
Sliced bread
Brown sugar
Cinnamon
Nuts (can be peanuts, walnuts, sunflower seeds…)
Oil or butter for frying
You will also need a cup that is about the size of your bread. A cookie cutter isn't ideal because we want to press two pieces together. The cutter will tend to cut the bread without fusing them together.
Help support us. Scroll down for more content.
Directions
Combine the sugar, nuts and cinnamon and mix.
Place two pieces of bread down. Press down the middle of one slice to make a pocket.
Fill the 'pocket' with a spoon full of the mixture.
Cover with the other slice of bread.
Press down with the cup and either tear the excess bread or cut away.
In a frying pan, heat and add oil or butter.
Add pieces and flatten with a press, spatula or cup (something flat you can press with)
Cook until golden-brown, flip and repeat
You can serve straight off the pan or drizzle honey or syrup to make them even sweeter.
Sure, it's not the 'authentic' way of making HoDdeok sweet Korean pancakes, but it is a lot easier, quicker and perfect for a rainy day when you want something sweet and quick to make.
If you want to learn how to make other Korean desserts, visit our post on ganjeong – puffed rice snack or visit our main page at Yorihey.com.