Dak-galbi (닭갈비) is a spicy and sweet, stir-fried chicken dish that primarily uses Korean hot pepper for seasoning. Korean hot peppers aren't too spicy. They tend to make you feel warm without chemically burning your tongue.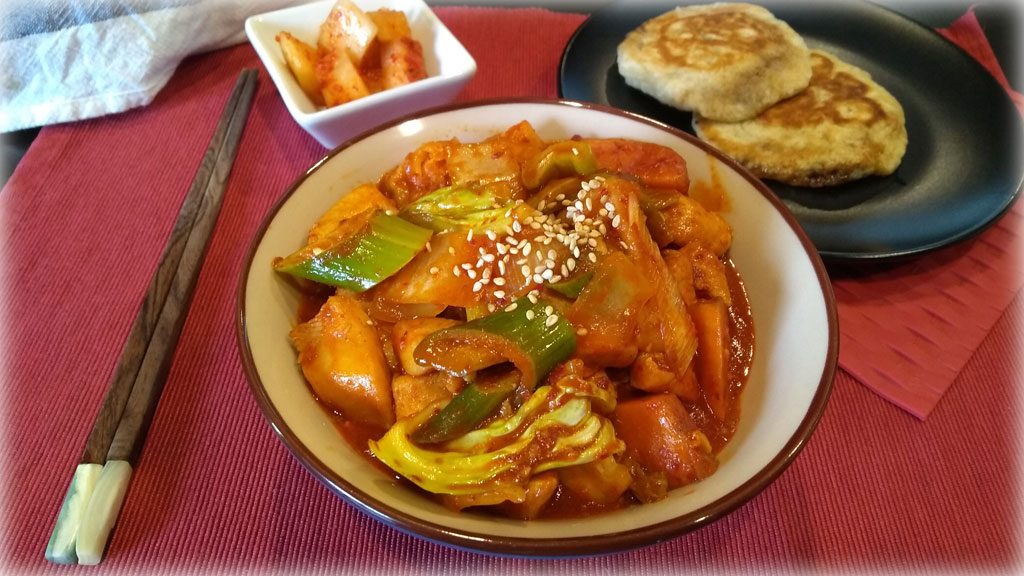 Once you have all of the ingredients, this dak-galbi is fairly easy and quick to make. You will need to go to your Asian or Korean food market to find Korean hot pepper paste (gochujang – 고추장) and coarse hot pepper flakes (gochu-karu – 고추가루). Other than that, other ingredients are easy to find.
For the chicken, traditionally chopped, bone-in chicken thighs and legs are used. In the video below, we use chicken breast. If you use bone-in thighs, let people know to be careful when eating.
View the video below for the recipe, or scroll further for ingredients and directions:
Ingredients
2~4 c – Chopped chicken pieces (either chicken breast or legs)
1~2 c – Chopped cabbage
1 c – Chopped onion
½ c – Chopped green onion
1 c – Chopped potato or sweet potato
(Optional) – 1 c – Ddeok (떡) Rice cake pieces
Seasoning

3 T – Korean hot pepper paste – GoChuJang (고추장)
3 T – Korean coarse hot pepper flakes – GoChuKaru (고추가루)
3 T – Soy sauce
2 T – White sugar
1 T – Minced garlic

Sesame oil
Sesame seeds
Help support us. Scroll down for more content.
Directions
Chop the meat and vegetable ingredients into medium-small pieces
Combine the Five sauce ingredients and mix.
Heat a pan or wok and add some cooking oil.
Add the chicken and stir-fry for a couple minutes until lightly cooked.
Add the onions and sweet potato next (hard veggies first, then soft).
Add one or two spoonfuls of sauce and stir-fry – cook another minute or two.
Add more sauce and some water until the mixture is a deep red and liquidy.
Continue to cook (2~3 minutes) until chicken and potato ingredients are fully cooked.
Add the green onions.
Sprinkle sesame oil and sesame seeds and stir.
Remove from heat and serve.
If you spicy dishes, try our Korean Spicy Stir-fried Pork (Jaeyook Bokeum – 제육볶음) or visit our main page at Yorihey.com.