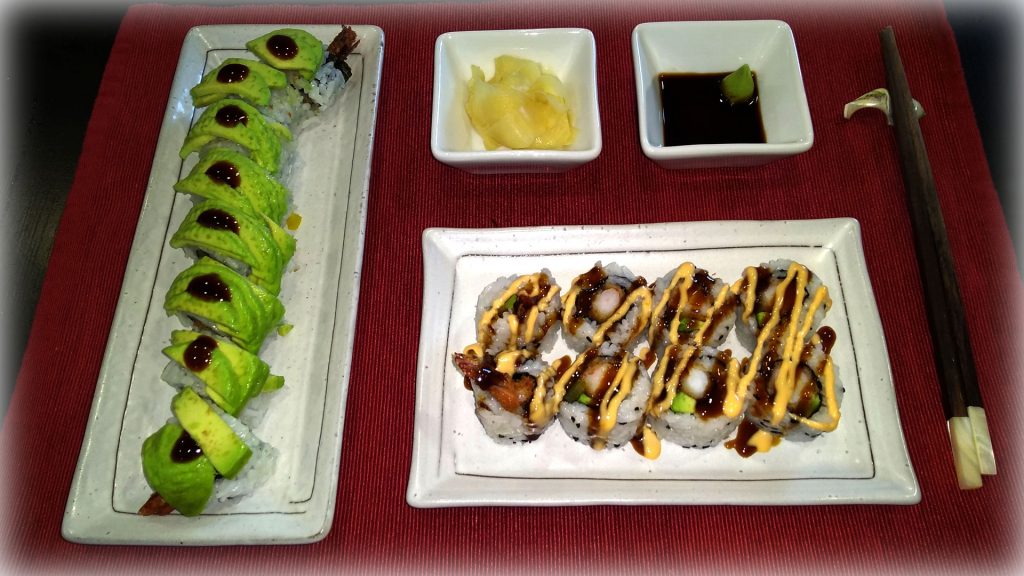 In this sushi making video, we show you how to make breaded fried shrimp tempura for use in sushi rolls. Tempura shrimp sushi is a bit more involved than the California Roll. This involves stretching the shrimp, breading and frying it. Then we show you how to roll the sushi and also, optionally, how to add a layer of avocado to the top (avocado sushi roll).
Please take a look at our shrimp tempura sushi roll video here. Below is a shopping list and more details.
Shopping List
You'll need to get some equipment for making sushi if you don't have it already. You can find most everything at your local Asian supermarket or online.
Bamboo sushi mat
Plastic wrap and/or wax paper
Cooking thermometer (for best results… temperature is important when frying)
Deep pot for frying
Ingredients
Tempura 'Breaded' Shrimp
Medium-large shrimp (we use 21-25 count per pound)
Bread crumbs
Tempura flour

3-parts flour
1-part starch
1/2-part salt

Cooking oil
Sushi Roll
Medium grain sushi rice
'Nori' seaweed sheets – Also labeled as 'kimbab' seaweed (김밥 김)
Avocado – Buy it hard and leave it out a day – Avoid mushy, over-ripe avocados
Directions
Tempura Shrimp
This is just a disclaimer that we aren't making traditional 'tempura' shrimp. The traditional process is more complicated and creates a much thicker shrimp, which is great as a side-dish but not so good when rolling half-sheet sushi.
Remove shell and de-vein. Stretch shrimp by making straight cuts at each segment on the underside and diagonal cuts (head-to-tail direction) between each segment on the top. Bend shrimp and pull lightly. You should feel a snapping at each segment.
With dry tempura flour, coat each shrimp.
Mix water and tempura flour until runny and coat shrimp again.
Coat shrimp with bread crumbs.
In deep pot, add oil and heat to 175ºC/350ºF.
Add shrimp, 3~4 at a time. Watch temperature. Evaporation/bubbling will lower temperature.
Check color. Remove when golden-brown.
Sushi Rolling
Take your seaweed sheet (nori/kim) and place on the bamboo mat, rough side up, shiny side down. The rice sticks better to the rough side and the shiny side looks better for rice-inside type rolls.
Take a scoop of rice and place it on the seaweed sheet. Either use a spatula to spread the rice (using the edge to scoop, not pressing down), or use your hands. If using your hands, dip them in water to prevent rice from sticking to your fingers.
Spread the rice evenly across the entire sheet. Go over the bottom edge about ¼-inch or 0.5 cm. This way the rice will be covered across the entire sushi roll and you won't see a seam.
Take two corners and lift the whole sheet and flip the sheet over, rice-side down.
Place two or three slices of avocado on the seaweed sheet, below the center line. Place cucumber/radish slices above, if you would like.
Place two pieces of shrimp, head-side in the center and tail-ends hanging outside the sides of the sheet.
With both thumbs, lift the sushi mat from the bottom. Hold the contents of the roll with your fingers. Bring the bottom edge over, holding the contents, until it meets the center of the roll. Squeeze the roll with the bamboo mat.
Pull the edge of the bamboo mat and roll the sushi further. Squeeze and repeat until the roll is complete.
Find your seam and place the roll, seam-side down, on the cutting board. If you don't see the seam, look on the sides of the roll, you should be able to find it.
Wet a sharp knife and cut the roll once in the middle, in half. Wet the blade each time and cut each half again. Wet the blade with each cut and continue until you have eight pieces.
Place roll on a plate for display. Top with your choice of toppings and/or sauce.